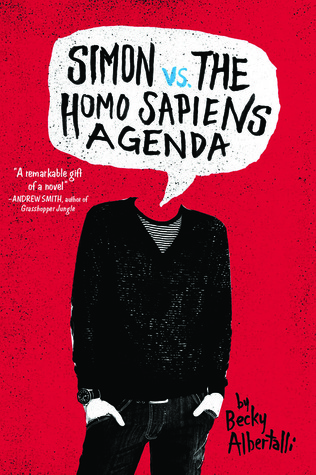 Title:
Simon vs. the Homo Sapiens Agenda
Author:
Becky Albertalli
Genre(s):
Contemporary
,
Romance
,
LGBTQIA
Publisher:
Balzer + Bray
Release Date:
April 7, 2015
Date Read:
June 22, 2015
Buy This Book:
Amazon
|
Book Depository
My Rating:
★ ★ ★ ★ ✩
Sixteen-year-old and not-so-openly gay Simon Spier prefers to save his drama for the school musical. But when an email falls into the wrong hands, his secret is at risk of being thrust into the spotlight. Now Simon is actually being blackmailed: if he doesn't play wingman for class clown Martin, his sexual identity will become everyone's business. Worse, the privacy of Blue, the pen name of the boy he's been emailing, will be compromised.

With some messy dynamics emerging in his once tight-knit group of friends, and his email correspondence with Blue growing more flirtatious every day, Simon's junior year has suddenly gotten all kinds of complicated. Now, change-averse Simon has to find a way to step out of his comfort zone before he's pushed out—without alienating his friends, compromising himself, or fumbling a shot at happiness with the most confusing, adorable guy he's never met.

This was so much
fluffier and lighter
than I expected. The story is pretty much a window into the daily life of a boy who is gay, lives in the South and likes
Oreos
. He has a nice group of friends, a goofy supportive family, and a smart anonymous email friend. Almost everything from the dialogue to the way situations were handled was so
realistic and ordinary
, I wouldn't be surprised if it happened in my own life somehow. Well, not the "blackmailing you with screenshots of your gay anonymous emails" part but that's what made things exciting.
Apart from that, Simon even thinks in the most
chill, conversational tone
ever. The writing is so similar to the way me and several other teens speak these days, especially with all the "I mean" and the "maybe" and the "I can't even" phrases. It makes it all the more easy to blend in to Simon's funny, genuine life.
"What's a dementor?"
I mean, I can't even. "Nora, you are no longer my sister."
"So it's some Harry Potter thing," she says.
But as much as I liked the calm tone, I also
didn't feel too attached
to any of the characters because of it. I often say I don't like drama, but I actually DO love it.
I love angst and tension and passion
as long as it makes sense how it came to be. But here, everyone's emotions blended together and I couldn't feel anything special for any one character. Simon was cool, Blue was cool, Abby was cool, Leah was cool, etc. I don't know how to individually describe them despite spending 200 or so pages with them.
I liked them but they just feel like peculiar passerby that I observe on the bus ride home and then never think about ever again.
"People really are like houses with vast rooms and tiny windows. And maybe it's a good thing, the way we never stop surprising each other."
However, the character detachment still didn't get in the way of my enjoyment when I read this book, especially near the end where the
romance starts to light up
. I wish I could have seen it develop some more and I also want to know what happens to some of the other characters' love lives? Will they live on with a one-sided crush forever or find someone new? What's with Nora's sudden change of heart to become social and badass? And what the heck is Martin going to be up to now?
I guess, I'm still curious even though the ending was quite satisfyingly sweet.
Thanks to the We The Book Dragons Goodreads group for getting me to finally read this adorable book and discuss it in fun ways.