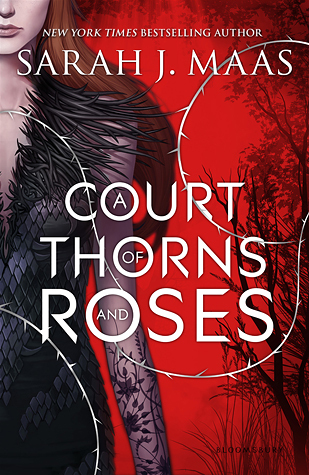 Title:
A Court of Thorns and Roses
Author:
Sarah J. Maas
Genre(s):
Fantasy
,
Romance
,
New Adult
Publisher:
Bloomsbury Children's
Release Date:
May 5, 2015
Date Read:
June 11, 2015
Buy This Book:
Amazon
|
Book Depository
My Rating:
★ ★ ★ ✩ ✩
When nineteen-year-old huntress Feyre kills a wolf in the woods, a beast-like creature arrives to demand retribution for it. Dragged to a treacherous magical land she only knows about from legends, Feyre discovers that her captor is not an animal, but Tamlin—one of the lethal, immortal faeries who once ruled their world.

As she dwells on his estate, her feelings for Tamlin transform from icy hostility into a fiery passion that burns through every lie and warning she's been told about the beautiful, dangerous world of the Fae. But an ancient, wicked shadow grows over the faerie lands, and Feyre must find a way to stop it . . . or doom Tamlin—and his world—forever.
Okay, I'm finally getting around to reviewing this and I have to say, I'm torn between
3 stars
and
4 stars
. The
last 40%
of the book is no doubt a full "heLL YEAH" out of 5 but the
first 60%
was so
slowly paced
and devoid of action that I was on the verge of DNF-ing this and moving on. Luckily, I didn't and there was one single reason for this...it was a picture that someone shared from Sarah J. Maas' Pinterest...and it was...captivating...
(Original Artist: credit)
No shame, people, I have no shame
. My reading speed increased by 3000% just to meet this
Rhysand
character and boy, was it worth it. He's sassy, cunning and downright evil scum but everything he schemes has underlying reason
,
"the ends justify the means" and all that morally ambiguous jazz. He's a well-written
antihero
and I haven't read about any of those in ages so I hope he lives a long life in this series.
But what about the other characters? Well, I adored
Feyre
, our huntress and painter, for being so
human
. She had such relatable feelings of lostness, worthlessness, freedom and passion. She was
vibrant
from the beginning but it's only in the last few chapters that she really imprinted on my mind and I truly cared so much for her and her stubborn struggles.
Tamlin the "beast" and his loyal servant Lucien
(aka
everyone's punching bag
) were just as important to me by the end of the story,
although there was one scene that made me really uncomfortable and Tamlin's response to it was very...un-Tamlin
. But apart from that, you could feel all their pain and passion in everything they did and I guess this is all thanks to Sarah J. Maas' writing.
Speaking of which, tired of monotone grey voices that forget that there are 5 senses to experience? Then you should read ACOTAR because
Maas' writing
uses all those underused stimulating adjectives and weaves them into something that you
feel
, not just be told. Everything from the decrepit hut, the forest glades and the fancy manor were
visible
in my mind's eye.
The
worldbuilding
, like the plot, could have been better. I was interested with the
many High Courts
concept for the Fae but it didn't go any further than that and we didn't personally get to know anyone from the other Courts apart from one obvious person. There's also the fact that a lot of crucial things that I always thought were the
essence
of Fae lore did not apply for these Fae and that was kind of sad. I know it's only book one and the nature of the plot is purposely secretive about the world but I was damn
thirsty
for more.
In the end, this never felt like a fairytale retelling to me, apart from the Cinderella vibes in the beginning. It's more of an individual fantasy novel, heavy on the romance, light on the action and worldbuilding but filled with very strong characters and a hot damn antihero whose brain you will appreciate.
3 clouds for lovable characters and that amazing climax and pretty visual writing.