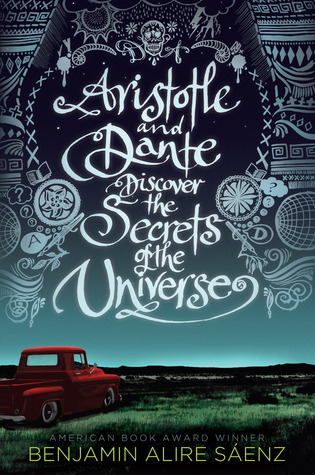 Title:
Aristotle and Dante Discover the Secrets of the Universe
Author:
Benjamin Alire Sáenz
Genre(s):
Contemporary
,
LGBTQIA
Publisher:
Simon & Schuster Books for Young Readers
Release Date:
February 21, 2012
Date Read:
May 8, 2015
Buy This Book:
Amazon
|
Book Depository
My Rating:
★ ★ ★ ★ ★
Dante can swim. Ari can't. Dante is articulate and self-assured. Ari has a hard time with words and suffers from self-doubt. Dante gets lost in poetry and art. Ari gets lost in thoughts of his older brother who is in prison. Dante is fair skinned. Ari's features are much darker. It seems that a boy like Dante, with his open and unique perspective on life, would be the last person to break down the walls that Ari has built around himself.

But against all odds, when Ari and Dante meet, they develop a special bond that will teach them the most important truths of their lives, and help define the people they want to be. But there are big hurdles in their way, and only by believing in each other―and the power of their friendship―can Ari and Dante emerge stronger on the other side.
SO MUCH HAPPINESS. MY HEART. I FEEL SO MUCH
HAPPINESS
.
This book is so raw and emotional and something I really recommend you go into without reading the synopsis or other reviews or anything. Don't roll your eyes at me. I mean, you could do all of that and still enjoy the story but it feels so much more
powerful
when you read this yourself and feel it all firsthand. Go ahead. Just go and get yourself a copy and begin.
Done? Well, now you know what I'll be blabbering about.
Let's start with the plot:
there isn't one
. There is no Point A and no Point B and 70% of the story is
dialogue
but that doesn't mean things don't change by the end of the book. They do change and the slow, emotional journey to that change is what this story is about. In other words,
it's a really character-driven tale
.
I felt connected on a
deeply emotional level
to Angel Aristotle Mendoza (that's the protagonist's actual name, whimsical isn't it?). At first, I kept thinking why the heck is this guy so frustrated and contradictory and inconsistent all the time but as you read along, his frustrations become your own, his erratic joy becomes your own, all his feelings become your own. It's a really
rare
thing for me to like an inconsistent character but I
loved
Ari. He was written in such a way that I just could not
not
connect to him. I understood everything about him by the end of this book and I'd be lying if I said that some of his frustrations didn't remind me of my own lonely, angry 15-year-old self.
But Ari isn't the only one. You feel deeply (I'm going to say this word a lot because that's just how I felt) attached to the other characters as well.
Dante Quintana
is a quirky intellectual with a calmer way of approaching life compared to Ari but that doesn't mean he too doesn't have his own frustrations. He wore his emotions on his sleeves and they were so realistic and heart-wrenching and well-developed.
Then, there are the
parents
. You know, how I always whine about the lack of caring, loving parents in YA? Yeah, well this book gave me not just 2 but
4
sweet parents
and I loved
all of them
. They were their own people with their own struggles and their own quirks but they all loved their kids so fiercely and wanted to protect and understand and
help
. They're the kind of parents that you aspire to be if you ever plan on being a parent.
The writing only amplifies what I felt for the characters. Or maybe it's what made the characters. It's not lyrical but it's not
The Hunger Games
either. It's very
simplistic but it packs a punch
with each word. Some sentences are only 3 words long but they
mean so much
to the characters, they can make all the difference to the story. It just goes to show that you don't need to use a bazillion metaphors or complicated vocabulary to tell a beautiful story.
In the end, all I can say is that this book is beautiful. Beautifully written and very beautifully developed.
5 clouds for this new favorite that I want to recommend to my family and friends.